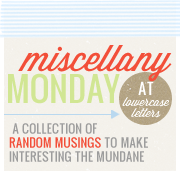 I know that most folks think there aren't a whole lot of reasons to love Mondays.
Sometimes I feel the same way, but mostly...well, I kinda like 'em. ; )
I've told you before how Mondays are like 'fresh start' days to me. The beginning of a whole new week and new chance to make it a good one. Nothing wrong with that!
I also love linking up on Miscellany Mondays over at
lowercase letters
. Carissa is pretty amazing. I love reading her posts because she's always so uplifting. Life is no more perfect for her than it is for any of the rest of us, but through her faith and her love of Jesus, she sure does find a way to put a positive spin on things. I don't know about you, but I can use all the positivity I can get! ; )
Now I do believe it's time to get random. : )
(1)
I am addicted to CBS Sunday Morning.
I love the randomness of the stories they cover.
I love the quirky way the cover those random stories.
I just love hearing about all the
crazy/touching/monumental/under appreciated/overly sensationalized
things that take place in this wild and crazy world in which we live.
It makes you realize that there is so much out there,
outside that snug little cocoon in which you exist,
and you have no idea until you
open yourself up to see it.
Yesterday they ran a story on
Dr. Richard Olney.
Dr. Olney spent 20 years treating patients suffering with ALS.
He was a leading researcher doing everything in his power
to come up with treatments that would help his patients
handle the debilitating illness that would rob
them of control of their body and,
eventually, their lives.
In 2004 Dr. Olney received his own diagnosis of ALS.
I hope you'll take a few minutes to watch this video clip of the story.
What an amazing man.
(2)
This gentleman is Bill Wahl.
He is a typewriter repairman.
Cool, huh?
Okay, so maybe some of you don't find that to be quite as cool as I do.
But think about it!
In this day and age of laptops and iPads
and netbooks and all things computer,
how cool is it to still have a place to take your typewriter for repair?
What?
You don't have a typewriter?
Oh.
Well, I do. : )
I have a super old one that I found at a yard sale a few years ago
and while I admit that I bought it to adorn the desk in my parlor
and not really to type on,
I love my typewriter. <3
I think I also still have an old electric one in the attic.
You know, the kind that has its own little suitcase
so you can carry it around wherever you go.
That's the one I used when I first started writing
fiction and poetry when I was very young.
Single digits young.
(Yes, it's an antique!)
Anyway, you can see Mr. Wahl's story here:
Very cool, to an ol' gal like me. ; )
(3)
I'm fighting yet another sinus infection.
Z-Pack is my best friend at the moment, along with
cups of hot cider and an
occasional dose of ibuprofen to dull the
aching/throbbing in my face.
(4)
Brie found a new location for her bakery and we'll be
getting her moved at the end of the month. : )
It's pretty exciting because she needs space
and this new place certainly offers plenty of that!
She'll have room for tables and will no longer be
carry-out only. She can go back to serving those delicious
lunches and there will even be a little sitting area
where you can peruse a book or magazine
while waiting on your order or enjoying a
smoothie or cup of coffee. : )
She should be up and running in the new place by the
middle of March.
Now I need to get busy and get some work done around here.
I need to dust, vacuum, scrub a bathtub or three,
make some potato salad (because I'm hungry for it)
to accompany the burgers I'm going to grill
for dinner this evening,
and I'm sure a dozen or so other things I'll come across
that need to be done.
So have a happy Monday, folks!
Cruise on over to Carissa's place and join the link party! : )