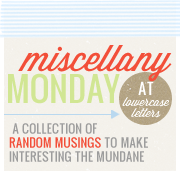 Just click on the Miscellany Monday tag up there and join in the fun @ lowercase letters. : )
1. This shot pretty much sums up the weather here. Can you say
soggy
? I opened a window in my family room to snap this pic. This is our yard, just off the deck and behind the family room area. What a mess it is out there! And not only has it been pouring buckets, I was awakened by THUNDER during the wee hours of the morning. C.R.A.Z.Y. We're also under a wind advisory. Supposed to have 50 mph sustained winds, from what I hear.
2. This is my freshly scoured sink. I may not have stuck with The Fly Lady and her daily cleaning email reminders, but the whole
shiny sink
thing of hers did stick with me. She is SO right. If you keep the sink and faucet clean and shiny, it goes a long way toward making the whole room look better. I think it's mostly that if you're keeping the sink this way, it isn't sitting full of dirty dishes. ; ) But whatever it is, it works.
3. I was organizing my recipes and cookbooks and came across this note from Brie. It was tucked in among the handwritten recipe cards I keep in a tin. Brie is 25 now, so you can imagine the memories this brought flooding back. <3 I love coming across things like this and that's why I don't just put them all away in a box somewhere. This way I can enjoy them over and over again. : )
4. No pics just yet, but I'm making progress on the spare room! : ) With Mom staying here for a few days while she recuperates, I probably won't be spending a great deal of time up there in the very near future but I'll get a little done here and there until it is complete. I picked up another tote yesterday so I can pack away Perri's American Girl dolls (This makes me incredibly sad! Why did she have to go and grow up so quickly?) and her Beanie Baby collection. We'll save those for when she has kids of her own. Most of the other stuff she had tossed into that room has gone to The Hope Shop and the Resource Center, two local charities. Once I'm done weeding out and tossing, I have to figure out just exactly what the purpose of that room will be so I can decide what type of organizing will be done in there. I know that board games and crafting supplies will stay, but I'd also like to put a couple of cabinets and a counter top along one short wall. I could use it for crafting, sewing, wrapping packages, folding laundry (this room is next to my very tiny laundry room) and all sorts of other things. Now if I can just convince The Hubster. ; )
5. I apologize for not replying to comments made here. Blogger has been giving me fits recently. I'm having issues posting pics and also am unable to use the reply feature. I suppose that problem may be with Disqus and not Blogger, but either way it isn't working.
And I believe that's just about all the miscellany I can handle for today.
I'll leave you with a little something I found on Facebook.
I like the message. : )
(FB is good for something once in a while!)