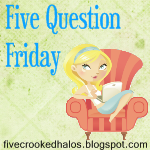 1. H
ow close to your childhood dreams is your life now?
Ya know, when I think about it just a little, I have to say pretty doggone close. I wanted six kids...I have four. (

Had two, ended up divorced, remarried and had two more. Just went a little too long between husbands... ; )

) All I ever wanted was to be a mom, a wife, a writer. As a young girl I would dream of a house with a white picket fence (corny, I know

) and I had names chosen for all of my children, including the twins I planned to have. ; )



2.
What is one must have item for the summer?


A good book. Or two. Or maybe ten.



3.
Do you have your kids stay up on school stuff during summer vacation? (Or, if you don't have kiddos, did your parents make you keep up on school stuff during summer?)


We are one of those families who enjoy learning all the time, and while the kids are young and still sponge-like, we teach them at every opportunity. So yeah, we even do some learning during the summer months. Especially when we get to travel. Lessons learned by seeing and doing are lessons well learned. So while we don't actually sit down and do worksheets or anything like that, we DO continue learning in fun ways. : )



4.
Do you can or freeze fresh produce?
Of course I do! Doesn't everyone? The Hubster works the land and I put up the harvest. Bushels of potatoes go into the cellar, I fire up the canner and break out the Mason jars for the green beans, the peas...

Oh, who am I kidding? We don't even have a cellar and I'm not even sure I still have a canner. What's more than that...I DON'T HAVE THE TIME OR THE ENERGY FOR IT AT THIS POINT IN MY LIFE! So here's the truth of the matter:

I used to do more than I do now, but I still try to put up

some

fresh things for the winter months. We love fresh corn so I always try to freeze several quart bags. We also grow bell peppers and I blanch, stuff and freeze those. Wrap them individually and I just pull out as many as I need, mix up some sauce, and throw them in the oven. Quick, easy, fresh tasting meal on a cold winter's day. : ) And I put up freezer jam in the spring when strawberries are in season for us. YUMMY!

5.
Do you get ready for the day first thing in the morning?


Usually, but right now the kids are out of school and on the days we have nowhere to be and nothing important to do, you just might catch me in my pj's a little later in the morning than is typical. Or maybe even a lot later. Maybe. In other words, you might wanna call first. ; )