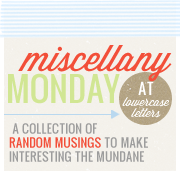 Ahhhh, another Monday. And this one will be spent at home sweet home! : )
Vacations are wonderful...coming home is, too. Even when it's a day earlier than planned.
*Dental appointment for Perri today. (Better her than me! ; ) I'd pretty much rather birth a child than have someone prodding around on my teeth.) Then on Wednesday Tucker sees the orthodontist. We're hoping the lip bumper gets removed, so cross those fingers. But we also know that when it comes out, the bottom braces go on. Not sure we should be celebrating...
*When we returned on Friday night, the laundry room became the busiest room in the house. I started the first couple of loads and The Hubster kept it going until pretty much everything was washed, dried and put away by the time Saturday evening rolled around.
That's
a good feeling, too. : )
*On Saturday my Tucker Man turned 9 years old!
Here's a pic of my happy little guy at the beach. : )
He requested Olive Garden for dinner, so as the inlaws were heading for home, we hopped in our car and followed them as far as Parkersburg so we could all help him celebrate. He was so excited to have the waitstaff sing happy birthday to him! There was no hiding that big ol' grin! : ) I videoed the whole thing and I'd love to post just a snapshot of him with the cake in front of him while they were singing, but I can't seem to figure out how to pull a snapshot out of the video. :( One of these days I will not be quite so technologically challenged. Maybe. ; )
*It's gonna be super hot this week. Today we're seeing mid 90s but humidity is making it feel like 105*. NOT my kind of weather. And since I pack The Hubster's lunch most days, these temps make me a little uncomfortable packing anything that includes mayo. I pack it with ice packs, but in these temps even they don't always make it to lunch time. So yesterday I made my Sweet and Sour Veggie Salad. It contains no mayo and the dressing on it is oil/vinegar based, so it's a safe bet on hot days. I'll be posting the recipe over at
Kelli's Kitchen
in just a few so be sure to check it out. : )
I believe that's it for this edition of Miscellany Monday! Join in over at
carissa graham's
by posting a link to your own Monday ramblings!