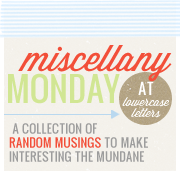 Good Monday morning, my bloggy friends!
Time for a little miscellany on this dreary, drizzly fall day.

~~~~~~~(1.)~~~~~~~

Chili.
It's what's for supper.

I've never made it in a CrockPot before. I'll let you know how it goes. Using my usual recipe (well, not really a recipe...nothing in writing anyway. Just some of this and a little of that...you know, my typical way of cooking) and I usually let it simmer on the stove all day anyway. I just figured this would allow me to come and go as I please without worrying about turning off the stove and such.
~~~~~~~(2.)~~~~~~~

I have a sick little guy.

Again.


He has missed school since Wednesday of last week. I found out yesterday that it is something they're calling a
'ten day flu'
. Fever, headache, stomach upset, cough. He just hasn't been able to shake it. We're only a month and a half into the school year and already he's missed so much. He's keeping up with his work though, and I always make sure he does that.
~~~~~~~
(3.)
~~~~~~~
I really enjoy sharing the craft posts with you. I've gotten lots of response to them so far and I do plan to share more in the coming days. I just need to dig around in my files some more and choose which ones to post. I've also gotten a great deal of response to
Kelli's Kitchen
, mostly via email and Facebook. Cooking and baking are among my favorite things to do so I am really enjoying that! : ) I also look forward to (eventually) sharing with you the meal plan that I mentioned
here
. So far, so good! (And yes, I know it is only the 4th day of the month, but hey.....gotta start somewhere!)
~~~~~~~
(4.)
~~~~~~~
Yesterday I got these:
So
there's
something to look forward to!
I'm hoping for a sunny, blue-skies-and-sunshine October day!
That's the best time to be in Morgantown.
~~~~~~~~~~~~~~~~~~~~~~~~~~~~~~~~~~~~~~~~~~~~~~~~~~
If you'd like to link up on Carissa Graham's Miscellany Monday,
just click on the icon and join in the fun!